Traveling can be either for leisure or for business purposes and can be to any world destination. The increase in the number of airline companies, the availability of more flights to every destination and the competitive pricing by various airlines have made it possible for thousands of business travelers and tourists to opt for air travel in preference to land travel.
Some destinations are more popular than others and air tickets might become difficult to obtain unless you book early. Again, demand for air tickets will be high for certain destinations during certain parts of the year. In all such cases, you should necessarily do some forward planning and book your air tickets sufficiently early. Besides, as a rule tickets for morning flights are in greater demand than afternoon or evening flights.
Getting air tickets during holiday season will be tough particularly days before Thanksgiving, Halloween, Christmas or New Year. Getting flights to a city on days before Superbowl weekend is a challenge. The answer is simple - if you wish to be in a specific destination during special times, either book a few months in advance or be ready to pay inflated prices for obtaining a last-minute ticket.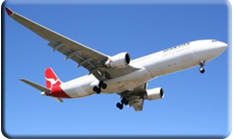 If your aim is to fly cheap, then you will have to obviously book early. Purchase the air ticket at least three weeks in advance for paying the best price. Prices usually shoot up go once you are 14 days or less away from the flight departure date. Airlines officials recommend booking online tickets on a Tuesday or
Wednesday as many airlines make pricing changes mid-week.
Making your airline reservation early may even mean getting a wide choice of seats. This apart, it is quite important to make your flight reservations early if you are touring with kids or if your requirement is for multiple tickets. Planning your airline trips early will provides you the opportunity to compare and evaluate the prices and other factors of different airlines and get the best possible deal.
When reserving a flight ticket, it is very important that you get the best deal and save money which will come handy for meeting other expenses. More than all things else, the greatest advantage of booking your airline tickets early is the mental peace you get to plan other details. It is a fact that traveling by air with all your family members including kids can be stressful. At least,
booking your air tickets early can relieve you a lot of anxiety.
What is most important for you to know when buying air tickets early is - if you later find that  business class flights costs have decreased you should immediately contact the airline in question. When requested, they would be only too willing to refund the difference in fares. Airlines tend to raise fares when seats are in high demand and lower them when the demand is not there.
Booking a flight several months in advance is usually a good way to ensure a reasonably priced fare, though there is a section of opinion that believes cheap airfare is possible if you wait to take advantage of last minute flight deals. In general, book as early as possible if you can not afford to be flexible about your flight date and time, and avail last minute booking if you can be flexible with your travel plans and
do not mind the risk of not getting a ticket.