How to Save On Upgrades At Little or No Cost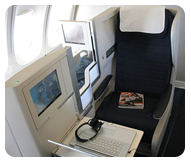 As a top tier member of the airline's, priority upgrades are available for the frequent traveler of that program. 
If you are not a member of an airline prgoram, upgrades are available through other loyalty points (call an agent for help).
Sometimes the airlines oversell their flights, so getting cash or a courtesy upgrade is available.
Upgrades are usually on the cheap if the flight has an abundance of open seats.
If you are a Business class member of a partner airline,  such as a Star Alliance partner, the potential for an upgrade increases. 
It is sometimes difficult for agents who deal with unhappy customers,  but even a simple gesture of kindness will get you an upgrade. 
Ask an IFlyBusiness Agent on how to get an upgrade or a major discount in Business or First class.