Once you get to the airport,  proceed to the check-in counter (of the airline to which you are flying) check in your luggage and obtain your boarding pass.
*Passengers who have already checked-in online, can save time and use the self service kiosks to print your boarding passes.
 Once you have your passes, proceed to the security checkpoint.
After you are cleared through security, proceed to the gate number within that concourse of your departure. There will be signs through out the airport to guide you along the way. 
Please remember that each airport may be designed differently and the layout of terminals, gates and other airport services will vary. Business and First Class Lounges are also available throughout the airport terminals and may be on different levels.
Take advantage of avoiding  large crowds by hanging out in the lounge. You may rest, eat, drink or connect via social media while you wait to board your flight.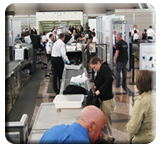 Due to the tightened  security measures post 9/11 terrorist attack, the Transportation Safety Administration (TSA) has revised its guidelines more than once regarding acceptable travel items
General tips for boarding a flight can be summarized as follows:
Carry your tickets  along with other pertinant I.D and documents
Bring only the permissible items as per TSA rules and regulations
Get to the airport in advance so that there is enough time to check-in, pass through security or relax in the designated lounges
Opt for checking on online to save tim at the airport
Make sure tags are attached to your luggage with the most-up-to-date information in case they are lost
Ask an IFlyBusiness Agent to assign your seats and pick your meals preflight
Sit Back, Relax and Enjoy Your Flight.
Call Now to Speak to An Agent:

1-800-807-9834