Nothing can be more frustrating to a passenger than knowing that their flight is cancelled. Although flight cancellations are unavoidable we have a few ways to help if you are ever faced with this issue.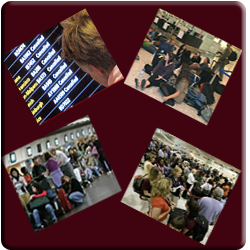 Flight Cancellations and How to Handle Them:
If you are in the airport and at the ticketing counter here is our advice:
Request that the arilines rebook's you to a later flight. If you will not make your connection, then ask for a non-stop flight to your final destination even if it requires you to arrive a few hours later.
If an airline is on strike ask that the airline rebook you to another partner or non-partner airline. What most people do not know is that the airlines are authorized to do this.
Please remember that your air ticket is still valid even if the flight is cancelled. In most of the cases, you can transfer them to other flights. It is a facility provided by most of the airplanes.
If at the airport, the moment you know that your flight has been cancelled, immediately go to the ticketing desk because more options will be available. 
It is good to call the toll free number http://www.tollfreeairline.com/ and ask for assistance. The airline officials will be more than happy to offer you alternate solutions.
You can contact the airline officials and request to be placed on stand-by for the next flight. As a rule, airline authorities offer flight vouchers on future flights due to flight cancellations. It is always advisable to check the night before the airline's website to confirm whether the flight is ontime.
The more flexible you are you may end up getting a better schedule.