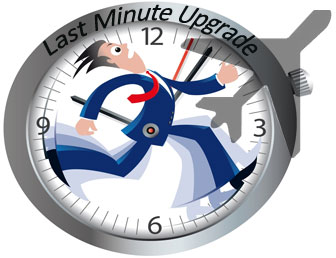 Finding cheap airline tickets is simpler but getting an upgrade to business or first class is tough. Business class service - with meals, lounge access and all the fabulous extras - costs an airline more to deliver. When the passenger has not paid for that service, there needs to be a good reason for them to be seated there.
In general, airlines give passengers upgrades based on seat availability, type of fare paid and frequent flier status. Upgrading to  business class at the last minute - without paying anything extra - is certainly a challenging task. Of course, there are some known and proven ways how you can succeed in your efforts.
If you fly often, then the easiest way is to join the frequent flyer club of the airline you are regularly using. Once you accumulate enough miles, you can join their elite class club as well. Several airlines treat these passengers extremely courteously and you will enjoy priority in getting an upgrade if one becomes available. In fact, most airline companies encourage their regular travelers to join their frequent flyer club.
This suggestion may look silly but still make it a point to dress neatly when you fly. It is true that the passenger wearing cutoffs and flip flops is unlikely to get the upgrade.
Find out your ticket class. If your ticket shows "Y" as mark of its identification, it follows you have an economy class ticket that is fully refundable. Holders of these tickets stand a better chance of getting an upgrade when available.
Try whenever possible to book flights that leave early in the day and reach the check-in counter before others arrive. There are often fewer fliers competing for available upgrades and agents are more receptive to upgrade requests.
Airlines generally sell the economy-class seats first, but seats are often empty in the higher class. When the economy section is overbooked, passengers are moved up front. So check-in early so that you do not miss a chance to be upgraded.
You can even politely enquire the possible likelihood of an upgrade when you check in at the ticketing counter. An obliging ticket agent may put you on a list for any last-minute upgrades.
Ask the agent to include an "OSI" (other significant information) clause to your PNR (passenger record). The OSI might indicate that you are a missionary doing humanitarian work or a senior official of a Fortune 500 company, which may easily get you an upgrade.
Make it a point to ask about upgrades at the gate. The gate agent may have a better idea whether economy class is overbooked, and whether they need to shift some passengers to higher class. If you are frequent flyer club member and/or you have a "Y" class ticket, you may be fortunate in getting the upgrade over others.
You can also ask the gate agent whether there are any seats available in business class, and then use your frequent flyer miles or a credit card to pay some nominal difference. Another trick is to deliberately board late. Agents scan the boarding pass last-minute for passengers to upgrade.
Your professional status, your employer image or your rank within a company may enhance your chances of being upgraded. Ministers, employees of some non-profit firms and members of humanitarian organizations, are often given special consideration. Senior executives of large companies that have negotiated corporate fares with an airline stand bright chances of upgrading.