We are today living in the age of the credit cards and there are many different types of credit card for a person to choose from. What most people fancy is having rewards-based credit cards. When buying these kinds of credit cards you have the option of selecting from different types of rewards and one of them is air miles. Of course, air miles credit cards can be highly useful for frequent flyers particularly to overseas destinations.
It is common knowledge that air travel is expensive and any bit of savings on air fare can provide relief – regardless whether you travel for business or pleasure. Of course in today's scenario of open market economy, there are numerous providers of air miles credit cards. As a buyer, the onus is on you to select the card most suited to your needs.
But intending buyers of air miles credit cards will have to use their discretion as these cards are gainful only to those that pay their credit card dues in full each month and do not pay interest. As otherwise the amount that you pay towards interest will far outweigh the rewards that you receive.
With an air miles credit card you earn miles for every dollar or pound that you spend on purchases using the cards. Thus, the more often you use the card and the more money you spend, the higher the number of miles that you accumulate.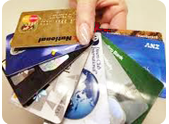 But the important factor to remember is that no miles are given for cash transactions or withdrawals, and on the contrary you will be charged higher fees and interest for such transactions. 
r
The number of air miles awarded per pound or dollar spent can differ from one card to another. This makes it essential that you compare the terms of different cards and select the one that offers maximum air miles.
If you are not a frequent air traveler, then it is pointless going in for an air miles credit card. Instead, you should explore other type of rewards based credit card more suited for your needs. Again, if you do not spend on your credit card regularly, then having an  air miles credit card serves no purpose as it will take too long for you to accumulate the number of miles.
You should also be wary of some cards that offer a higher number of miles per dollar or pound you spend but will charge a hefty annual fee. You must do your calculations right before opting for such terms.
Please check if your air miles have any validity period as with many cards, the earned and unused air miles will lapse after a year. Try to choose providers that do not impose any expiration date for your air miles. Also, opt for air miles credit cards that allow you to redeem your points for other things like hotel stay, restaurants, car rentals etc. The wisest thing to do is to compare the terms of at least five or six different cards and identify the one that is most attractive and best suits your requirements.
Please know that there are two types of providers of air miles credit cards – the airlines and banks. Any  Business class airline that offer its credit cards will understandably focus on its own services and the air miles can only be used on its airline. This could be advantageous for you if that airline can easily be availed from your closest airport and to most of the places you usually travel to. On the other hand, a bank issued air miles credit cards are versatile and can be used on most airlines and the air miles are also applicable to any airline.